In 2015, NYCEDC and Council Member Carlos Menchaca's Office entered into an agreement that established the Sunset Park Waterfront Planning and Jobs Task Force (the "Task Force"). 
Co-convened by NYCEDC and the Southwest Brooklyn Industrial Development Corporation (SBIDC), the Task Force exists to achieve a broad and multi-faceted mission for the Sunset Park waterfront, including:
Maximize the potential of the Sunset Park waterfront district and Significant Maritime Industrial Area to serve as an economic hub of traditional, innovating, and green industries
Promote workforce development opportunities that connect Sunset Park residents to emerging job opportunities on the waterfront, and invite agencies to report out on related data 
Support local connections to the waterfront through publicly accessible open space
Provide ongoing advocacy for industrial, manufacturing, and maritime businesses 
Promote efficient movement of freight, including via maritime and rail solutions, and on local surface roads
Promote safe movement of people, including via public transit, by foot, and by bike in plans for local surface roads, upland connectors, and greenways 
Advise on long-range planning for and investments in the future of the waterfront, including infrastructure, resiliency, clean energy, and circular economies and a just transition
Create additional opportunities for stakeholder engagement with the surrounding community on an ongoing basis 
To advance this mission, the Sunset Park Task Force plays three major roles:
Acting as a liaison to participating government agencies to advise on short-term and long-term planning, including public investment, in the Sunset Park waterfront district
Advocating for and promoting the Sunset Park waterfront district locally, regionally, and nationally
Serving as a venue for cross-functional collaboration among task force members representing diverse sectors and industries
Additionally, the Task Force advises NYCEDC on the SBMT Special Projects Fund (scope and procedures pending) and nominates members to serve on two governance committees of the NYCEDC/Equinor Offshore Wind Agreement $5M Fund: Strategy Development (2–3 Task Force members) and Selection Committee (2–3 Task Force members).
Task Force Members
The Sunset Park Task Force is composed of a diverse group of community members and local stakeholders:
Local Businesses, Community Organizations, and City Agencies
Brooklyn Community Board 7
Brooklyn Chamber of Commerce
Center for Family Life
Chinese-American Planning Council
DG Tax
Industrial Carting
Li-Lac Chocolates
NYC Department of Transportation
New York New Jersey Rail
NYU Langone
Opportunities for a Better Tomorrow
Port Authority of New York and New Jersey
Red Hook Terminals
Sahadi Fine Foods
SIMS Municipal Recycling
Sunset Park Business Improvement District
Turnstile Tours
Uncommon Goods
UPROSE
Residents
Max Feld
John Santore
Esther Sosa
Edie Sharp
Katie Walsh
Elected Offices
Council Member Alexa Aviles
Borough President Antonio Reynoso
Representative Dan Goldman
State Senator Andrew Gounardes
State Assembly Member Marcela Mitaynes
Co-Conveners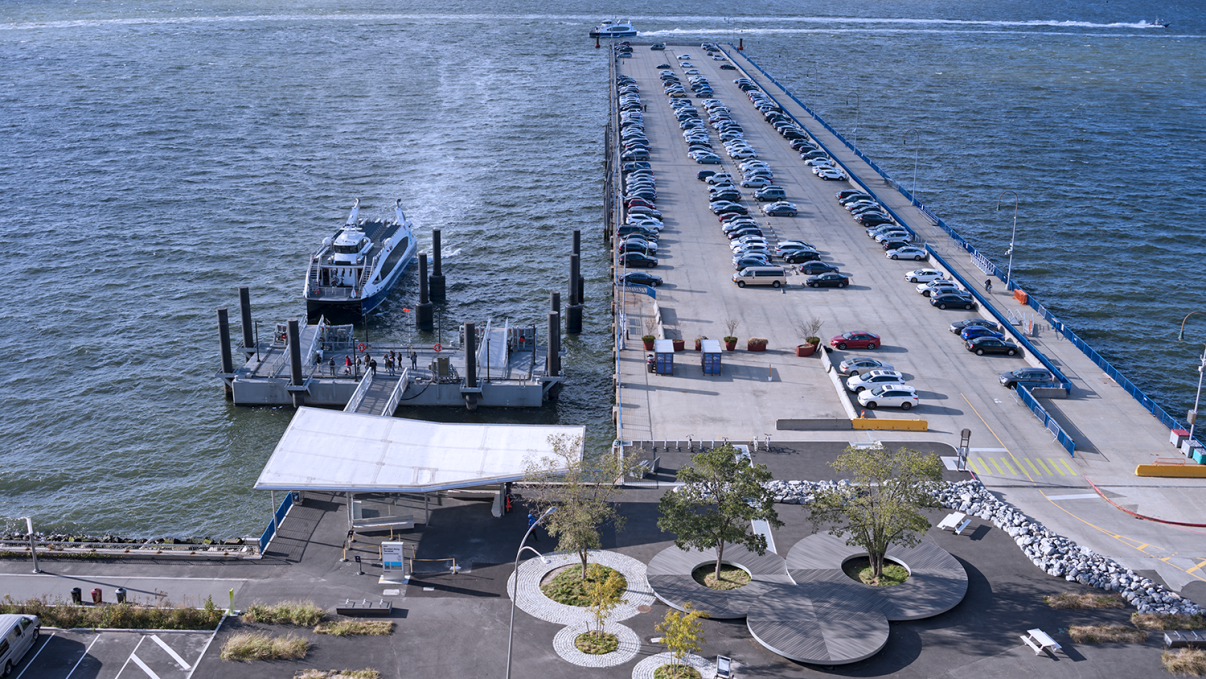 Strengthening Industry in Sunset Park
The existence of the Sunset Park Task Force reflects NYCEDC's and the City's investments in Sunset Park to anchor a continued industrial economy in the neighborhood and celebrate this significant maritime and industrial area. Investments in the area are driven by NYCEDC's Sunset Park Vision Plan and the local community board's 197a plan, to promote industrial redevelopment and job creation in Sunset Park while retaining existing industrial jobs, and to maximize waterfront access and open space, among other priorities.
These efforts have centered around the South Brooklyn Marine Terminal, with its recent public and private investments to transform it into a port for offshore wind and support hundreds of local jobs; along with the Brooklyn Army Terminal, with its 100+ manufacturing businesses and thousands of jobs; and the Made in NY Campus, an upcoming garment manufacturing hub and film and media production facility. 
Related Documents
* = Indicates All Required Fields